III. Structure
A. Engineering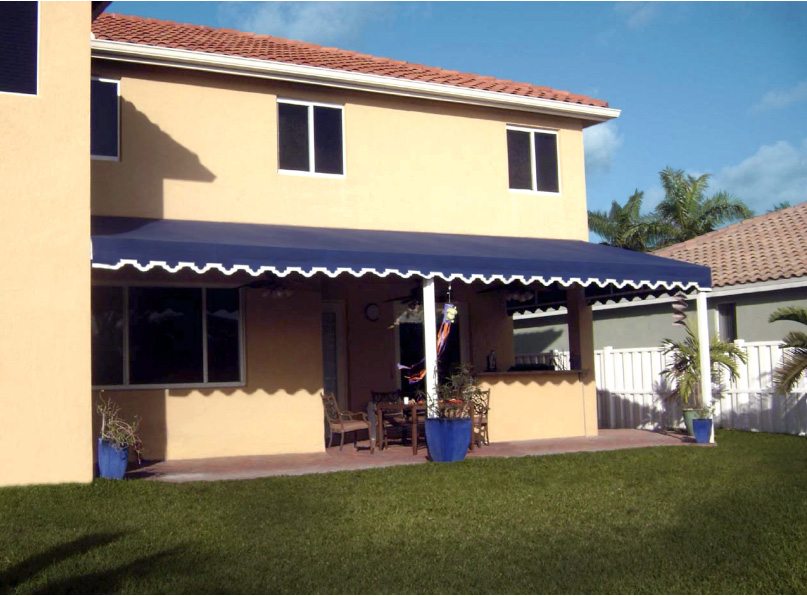 Viewed from Outside
Prior to fabricating a frame, the design must be engineered to meet the requirements of the building code. This process, done with the use of CAD technology and calculations, will establish the best type and sizes of metal to use for maximum design strength and cost efficiency. Depending on the type, quality, size and grade of metal, frame designs for the same awning can vary greatly in looks and cost. Shown below are three variations of framing that can be used to build the same awning, shown at right. Viewed from outside the difference is not noticeable, but when standing under the awning there is an obvious difference in look and feel. Even though there is less material in the single rafter design, it is more costly than the others due to the use of high grade metals to meet engineering specifications. Since you will spend most of your outdoor time under your awning the framing becomes an
aesthetic
concern. Efficient use of top quality material commensurate with proper sizing and spacing are essential in the engineering phase of your design. Make sure you know what your framing configuration will look like.
| | | |
| --- | --- | --- |
| Single Rafter Design | Double Angle Truss | Horizontal Truss |
B. Frame - Material and Fabrication
Each frame will need to have its own characteristics to best meet the function and environmental surroundings in which it will be used. Framing materials used in the industry are either steel or aluminum and the shapes are round, square or rectangular. The most common materials used in framing are discussed below.
Steel Pipe-A round shape, thicker than other steel or aluminum sections. It can be welded or bolted easily. This material is functional, but heavy and not very pleasing to the eye. (It should be noted that much of the steel pipe used today is imported from China and may contain higher levels of lead than domestic steel)
Steel Tubing- Tubing is similar to pipe but comes in a greater range of wall thicknesses and shapes. It is available in round, square and rectangular shapes and is easy to weld or bolt. It can be found in higher strengths than pipe.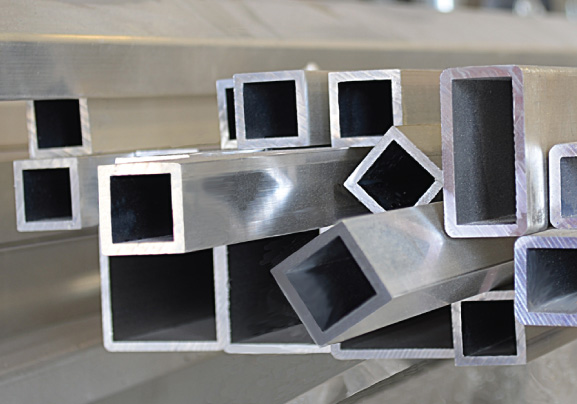 Aluminum Tube Shapes
High Strength Steel Tubing- A thin walled steel tubing that is available in round, square and rectangular shapes. It is coated with a corrosion resistant surface treatment and is relatively lightweight. It can be bent and welded without flaking or chipping.
Aluminum Pipe- Highly corrosion resistant and about one third lighter than steel. Not as strong as steel and requires mechanical connections in areas of heavy load.
Aluminum Tubing- Available in many sizes shapes, alloys and tempers making it suitable for a variety of uses. Highly corrosion resistant and can be welded or bolted.
Staple-on Extrusions- An aluminum extrusion in a basic channel shape. Inside the channel is a pressure installed weather strip or trim piece to which the fabric is fastened by stapling.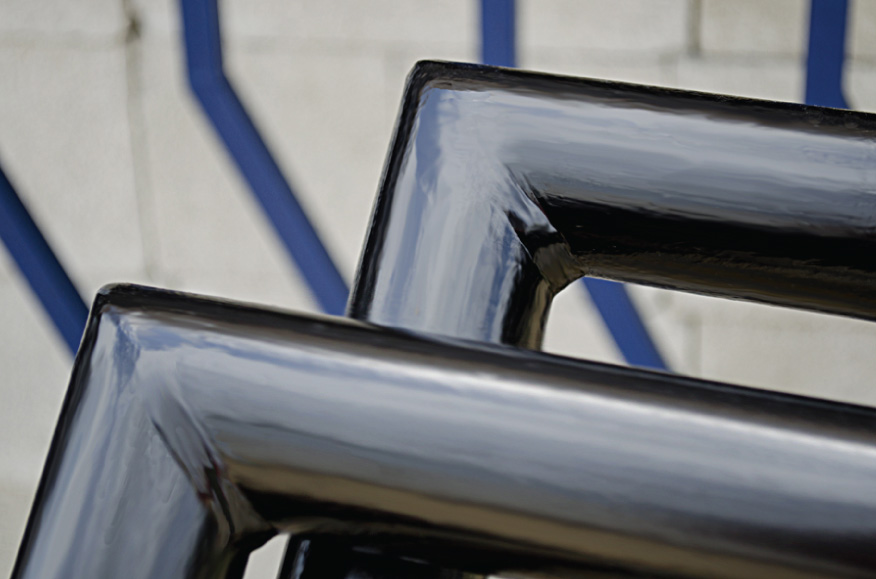 Mitered corner welds, ground and painted
Frames should be custom built by cutting, bending, welding, grinding, and bolting in accordance with specifications of the engineering drawings. An important part of the process is the welding of connections. Craftsmanship comes into play in the building of a strong and aesthetically pleasing frame. All welds should be mitered for maximum density, strength and symmetry. Shortcuts that might be taken are butt welding straight cut pipes or flattening pipe to fit. These practices do not form strong welds and cause early corrosion at the joints. Welders in the factory as well as on the job site must be certified in welding aluminum, steel and high strength steel. Contractors can save a considerable amount of money by using non-certified workmen and taking shortcuts. The premature failure of a welded connection can cause damage and injury. Ask about certifications and avoid a contractor who will not produce them.
C. Finish
After fabrication of the frame it should undergo a thorough degreasing and cleaning in preparation for a finish. All welds should be primed with a high grade primer to prevent water intrusion and rust. The frame at this point is ready for a finish. A quality finish in the form of a colored or clear coating is a must for all frames.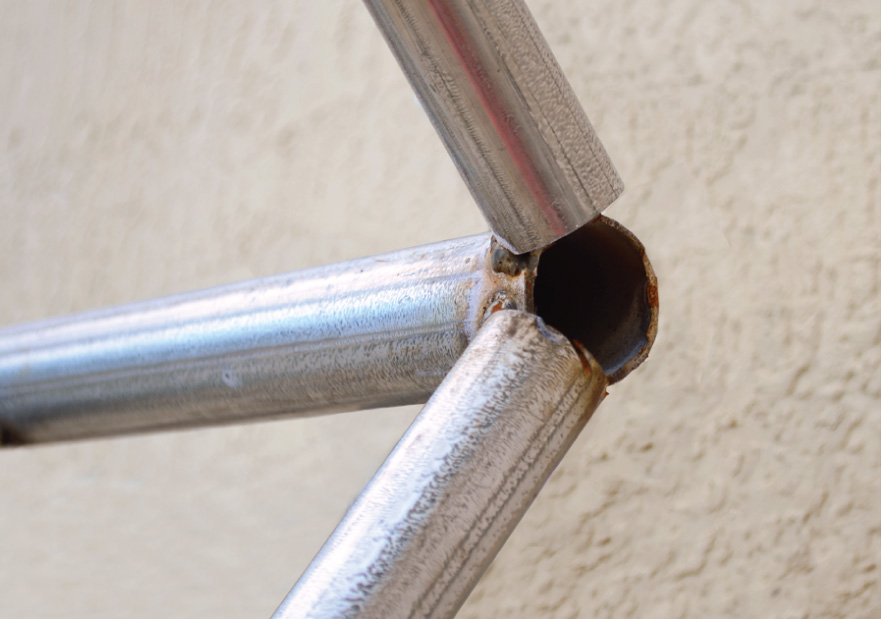 Butt welded straight cuts
Besides the
aesthetic
value, the finish provides protection against the elements. Oxidation in the form of rust on steel and a white powder on aluminum, will begin much sooner if the frame material is left unfinished. Do not accept a frame unless it has a finish coat applied. Even aluminum will corrode much faster without some additional protection applied to it. There are different grades of finishes available and all are acceptable for different uses. Paints can be applied with a brush, roller, sponge or rag. It can be sprayed on by conventional methods or applied
electrostatically
. It can be air cured or cured with heat. Each method results in a varying grade of finish quality.
A hand applied finish is the most economical method and will protect the metal, but can leave the finished surface subject to chipping or scratching. The surface will show flaws from the applicator. This is not meant to be a smooth fine finish.
Application with a conventional spray method provides a good coating and a smooth finish but needs to be applied in a controlled environment to protect the atmosphere as well as the person applying the spray. Care must be taken when spraying irregular shapes and edges to avoid paint buildup resulting in drips and runs. A great amount of

overspray

occurs during the process, wasting paint and releasing hazardous emissions into the air. This method of spray painting should not be used on the job site.
Electrostatic spray painting is a process that electrically and chemically bonds paint coatings to metal surfaces. The spray rig applies a positive electrical charge to the paint particles as they leave the spray gun. The metal being sprayed receives a negative electrical charge. The opposing charges cause the metal to attract the paint, much like a magnet would attract metal filings. Each paint particle bonds itself to the metal surface resulting in a flawless, quick drying and extremely durable finish. Transfer efficiency of the paint is 98% resulting in virtually, no

overspray

. This allows the use of portable paint equipment to be used on the job when conditions call for it.
Powder coating is the most durable coating available. This method is an electrostatic process that uses paint in a powder form rather than liquid. The paint is applied

electrostatically

and then baked and heat cured. This finish is best for high traffic areas or where the frame might be bumped or hit by, perhaps, children's toys. This process can only be used in a controlled environment and is not possible to be used on the job site.