Frame Finish
As good as aluminum and high strength steel are at resisting corrosion, we will not let a frame go out of our shop without an additional coating applied to it. After fabrication, a frame undergoes a thorough degreasing and cleaning. Welds then receive a coat of high quality primer to prevent water intrusion and rust. At this point the frame is ready for a finish. A quality finish in the form of a color or clear coating provides not only an aesthetic benefit to the frame but also another layer of protection against the elements. Oxidation in the form of rust on steel and white powder on aluminum, will begin much sooner if the framing metal is left in a raw state. There are different grades of finishes available and all are acceptable for different uses. Paints can be applied with a brush, roller, sponge or a rag. It can be sprayed on by conventional means or applied electrostatically. It can be air cured or dried with heat. Each method results in a varying degree of finish quality.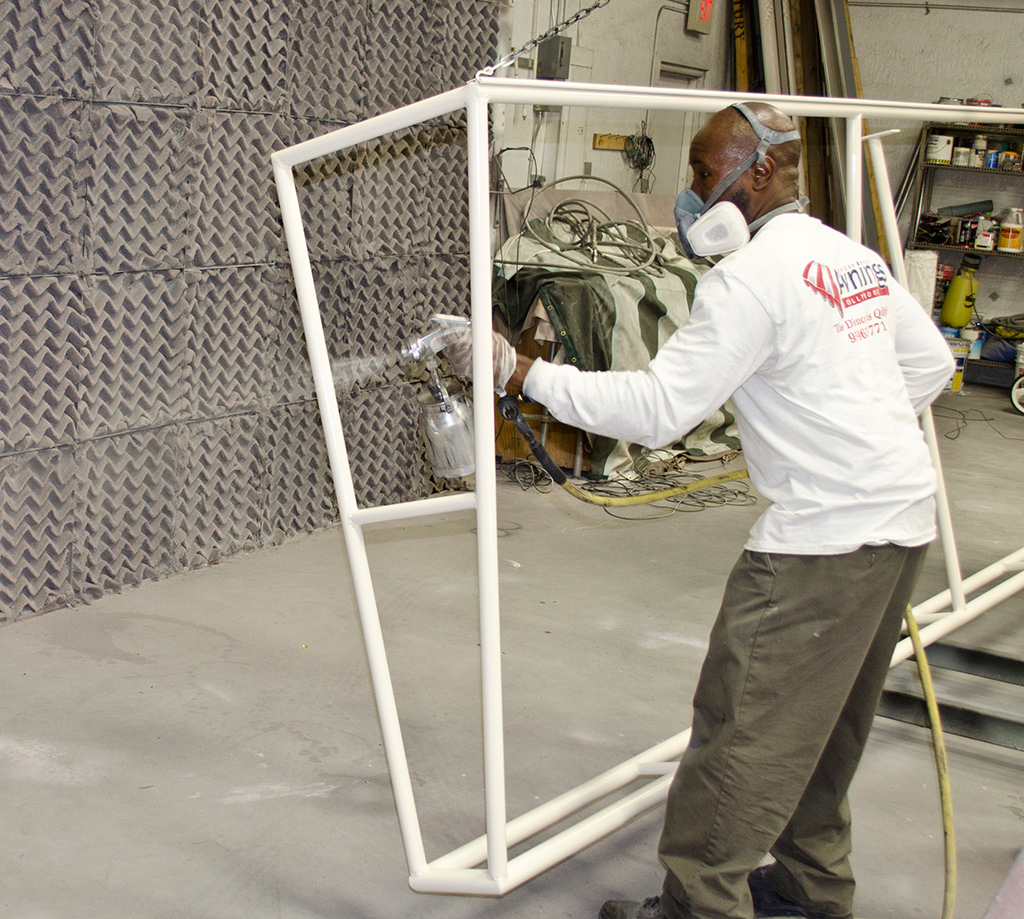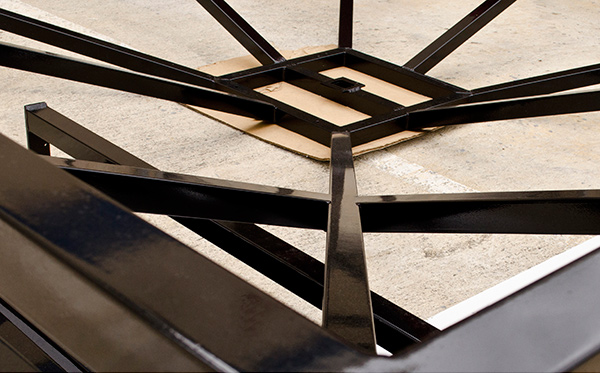 Frame with Electrostatic Spray Finish
A hand applied finish is the most economical and will protect the metal, but can leave the finished surface with flaws from the applicator or some runs or drips. This finish is also subject to chipping and scratching and is not meant to be a smooth, eye pleasing finish.
Application with a conventional spray gun provides a good and smooth finish but is still subject to scratches and chips. It needs to be applied in a controlled environment to protect the person applying the finish as well as the atmosphere. Care must be taken when spraying irregular shapes and edges to avoid paint build-up resulting in drips or runs. A great amount of overspray occurs during this process, wasting paint and releasing hazardous emissions into the air, which creates the need for the controlled environment. This method of spray painting should not be used on a jobsite.
Electrostatic spray painting is a process that electrically and chemically bonds paint to the surface of the metal. The spray rig applies a positive electrical charge to the paint particles as they leave the spray gun. The metal being sprayed receives a negative charge. The opposing charges cause the metal to attract the paint much like a magnet attracts metal filings. Each paint particle bonds itself to the metal resulting in a flawless, quick drying and extremely durable finish. Transfer efficiency of the paint is 98% resulting in virtually no overspray. This allows the use of portable electrostatic paint equipment to be used on the job when conditions call for it.
Powder coating is the most durable coating available. This method is an electrostatic process that uses paint in a powder form rather than liquid. The paint is applied electrostatically and then baked and heat cured. The finish is best used in high traffic areas where the frame might be subject to bumps or scrapes. This finishing method can only be used in a controlled environment, eliminating its use on a jobsite.