V. Installation
A. Installers/Welders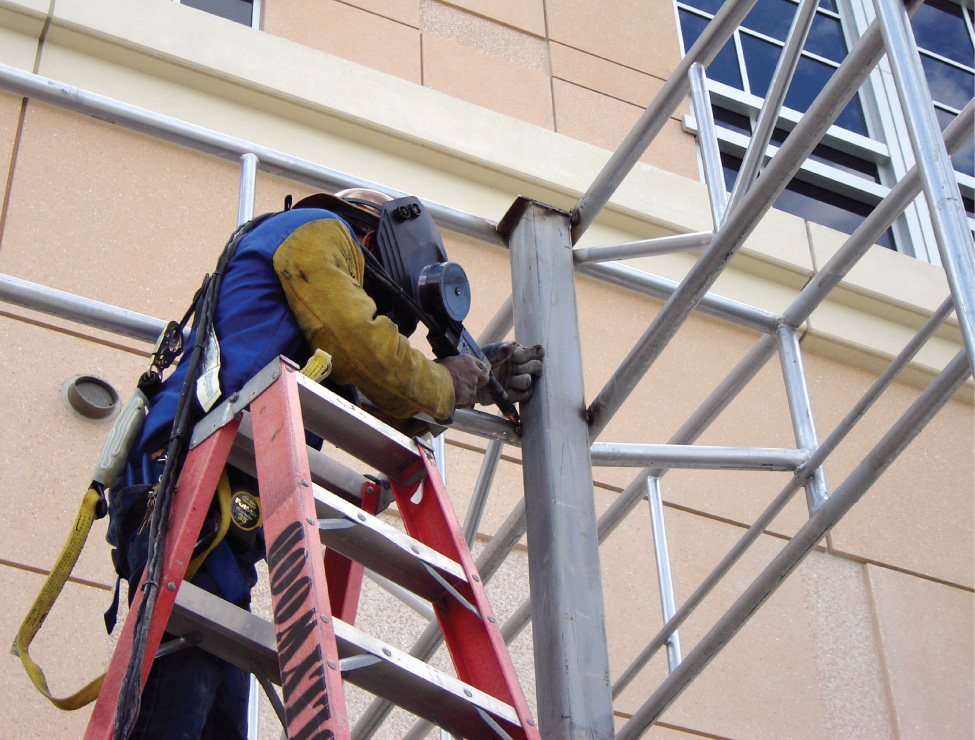 A welder fitted with the proper safety gear
An awning can be designed and fabricated to the highest standards, but if it is not installed to the highest standards it can become a nightmare for you and your household. Installation must be done by a trained, experienced team using the proper tools and outfitted with the equipment needed to do the job. This is not a job for the handyman or subcontractors from other trades. Awnings are a specialty product and installation should be left in the hands of a qualified installation team. Welders on the jobsite must be certified in welding whatever material is being used on the project.
B. Tools and Equipment
Each awning has engineering specifications for mounting including fastener types, sizes and locations. In the case of column supported awnings, excavations may have to be made for installation of footers or foundations. Depending on the size, height and configuration of the awning project, it is sometimes necessary to bring special equipment and tools into play. Equipment such as lifts, scaffolding, bobcats, augers, cement mixers and even cranes are used to facilitate a proper installation. Safety is a main concern in securing and using the right equipment to do the job. Taking shortcuts will sometimes save money but this is not the place to cut corners. Using makeshift or improper equipment greatly increases the probability of injury on the job or damage to your property.
C. Permits and Inspections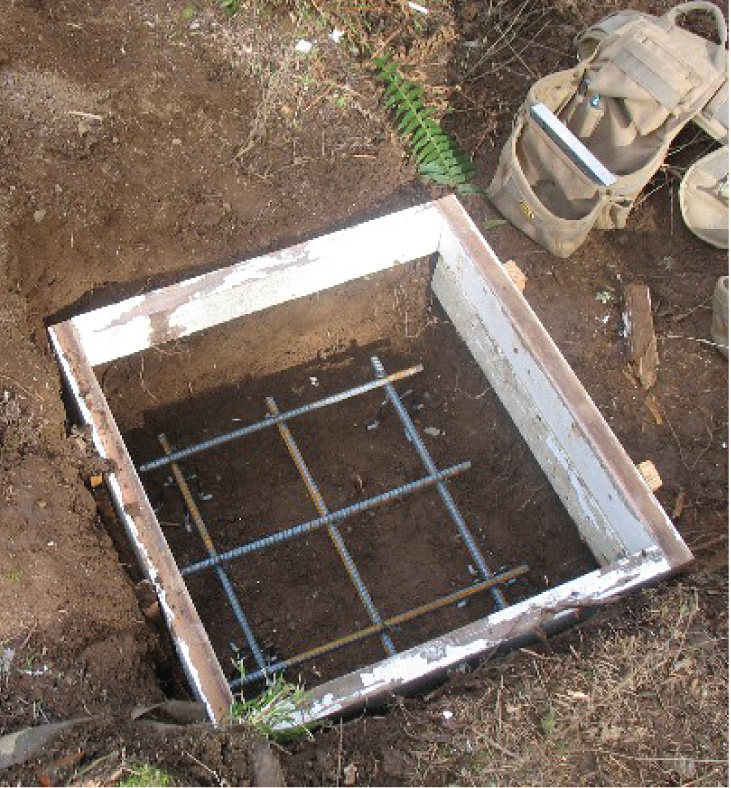 A footer ready for inspection
A building permit is a necessary part of your awning project. For awnings on windows and doors the process is relatively easy compared to a more complex patio or carport installation. If you live in a condominium or a community governed by a Homeowners Association, it will be necessary to gain written approval from the governing board in order to apply for a building permit. You may also be subject to a Community or Architectural Review Board depending on the city in which you live. Upon receiving any approvals that might be needed, your permit application and documents can be submitted to the building and zoning department for review. This process can be time consuming and expensive, but cannot be avoided. The right contractor for you will be sure to obtain the proper permits eliminating any legal problems, regarding your awning, from being raised at a later date. The permitted work is subject to inspections by a city or county building inspector. Awnings for windows and doors require only a final inspection after installation, but a more complex installation may require inspections at different stages of the work. There may be footers that need to be dug and poured with concrete for support columns or there may be electrical work for lighting or ceiling fans. To ensure that the work is done in a safe and proper manner, the inspectors will examine the work before allowing the next stage of work to proceed. The contractor is responsible for scheduling the inspections at the proper time in the work flow and having them signed off as approved, as the job progresses. When the work is complete a final inspection must be done and it will either be signed off as approved or failed, in need of corrections. If the job fails inspection, corrections must be made and another final inspection must be performed. It is important to verify that the final inspection has been approved. A permit without an approved final inspection will remain open and prohibit you from obtaining a permit to do any additional work on your property until the open permit is rectified. It would also become a problem if you were to try to sell your home.
D. Clean-Up
Upon completion of your installation your property should be cleaned of all tools, equipment and job debris. There will most likely be some grass areas that have been unavoidably flattened by the workers or equipment, but these will recover in time. It is now time to sit back and start enjoying the payoff on your investment.
We hope that this guide is useful to you during your decision making process. The intent is to make you aware of the value of what we offer in experience, product, installation and service when comparing those estimates.
Our design estimators are well equipped to answer any questions you might have regarding our company and any of the products that we offer. It is our responsibility to make sure that you understand what our estimate is based on. You will receive only the best in planning, design, materials, craftsmanship and on-time installation. Our business was built on satisfied residential homeowners and continues to grow thanks to their loyalty and confidence in referrals. Of all the products we make, our most important product is a satisfied customer.